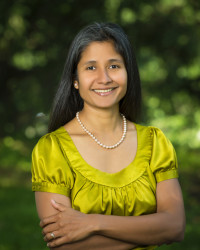 CLINICAL PRACTICE
---
Meera Murthi, Ph.D. specializes in working with women on issues of depression, anxiety, self-image, intimacy, relationship, and family, and recovery from childhood and adult trauma. Her clinical concentration is in the area of eating disorders and she also works with women and men struggling with food restriction, binge eating, overeating, anorexia, bulimia, and body image/consciousness issues. She has also worked with individuals with racial, gender, and sexual identity (LGBTQ) concerns, as well cross-cultural issues and immigrant adjustment. Dr. Murthi also has experience working with women and men on a range of other issues including ACOA issues (adult children of alcoholics), emotional abuse and violence, anger and avoidance, grief and loss, couple's issues, and life transitions.
She has worked as a psychologist at the University of Rochester, NY, and the University of Cincinnati, OH. Through her work in university practice she has provided individual, couples, and group psychotherapy services on a wide range of clinical issues, provided consultation for faculty, staff, and families, coordinated a clinical training program for doctoral students, taught clinical practice, and provided clinical supervision. Dr. Murthi has also taught in the Department of Psychology at the University of Notre Dame and St. Mary's College, IN. Dr. Murthi periodically offers clinical supervision at the Psychological Services Center (PSC) and teaches diversity courses at Xavier University, Cincinnati.
SPECIALIZATION & THERAPY PROCESS
---
The experience of therapy can be thoughtful, introspective, and insightful. Therapy can help a person to alleviate their immediate life stress and symptoms and to understand the emotional and psychological issues and relational patterns that underlie these symptoms. Seeking therapy can feel difficult for some people because of the stigma and labels associated with it, the discomfort of talking to a 'stranger,' or a sense of skepticism about its helpfulness to one's situation. The experience can be meaningful, however, and encourage self-awareness, insight, and self-acceptance.
Dr. Murthi approaches her practice from the perspective that each person is unique and may experience and respond to life in different ways. She draws upon a range of psychodynamic, interpersonal, humanistic, and/or multicultural theories to find an approach that is effective for each individual. She relationally focused and works to create safety within the therapy dynamic. Dr. Murthi helps a person to identify aspects of their life that needs to change, as well as any sources of support that will reinforce this change (family, peers, religion, spirituality). She focuses on emotions and feelings (anger, rage, grief, numbness, pain), thoughts (view of self, others, situations), and behaviors (avoidance, aggression, unassertiveness, lack of emotional or physical self care) with the intention of helping a person achieve the balance they need to move through and resolve conflicts. In therapy she also uses cognitive and behaviorally based treatments and utilize a number of mindfulness-based stress reduction approaches (MBSR).
EDUCATION & TRAINING
---
Dr. Meera Murthi received her doctoral degree in Counseling Psychology from the University of Illinois, Urbana-Champaign, and completed a clinical internship at the University of Notre Dame, IN, and a post-doctoral residency at Cornell University, NY. Currently Dr. Murthi is working on a teaching certification in Mindfulness Based Stress Reduction (MBSR) through the Center for Mindfulness at the University of Massachusettes Medical School.
Dr. Murthi's research explores violence and trauma issues among women in the US and South Asia and her doctoral research examined violence, trauma, and recovery in ethnic communities in South Asia. Her publications have appeared in the Psychology of Women Quarterly, Journal of Interpersonal Violence, Journal of Child Abuse and Neglect: An International Journal, and Journal of Multicultural Counseling and Development.
Dr. Murthi has participated in community-based work in different universities. She has provided outreach for faculty, staff, and students addressing a range of psychological wellness issues, and she has offered workshops on mindfulness and meditation. She has also served as a consultant in the Career and Guidance Center at HNB Garhwal University in North India. She has been involved in community based social work in non-profit agencies in India, addressing issues of sex work and health among women living in the red light districts of Mumbai, and in research initiatives addressing issues of violence among women living in ethnic communities in Mumbai. Locally, Dr. Murthi continues to be interested in human rights issues as well as life transition issues among the elderly and has pursued service opportunities at the Little Sisters of the Poor and in the Coalition for Anti-Human Trafficking.
Dr. Murthi has served as a member of the American Psychological Association (APA), the Academy for Eating Disorders (AED), and the Cincinnati Academy of Professional Psychology (CAPP).
Click here to see Dr. Murthi's publications & presentations.
Book an Appointment with Dr. Murthi Today!