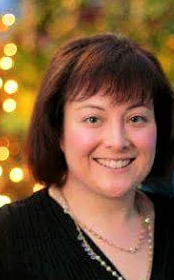 CLINICAL PRACTICE
---
Dr. Kristen Godenick has dedicated her professional life to helping individuals reach their full potential.  She is interested in forming a genuine, professional partnership with her clients, to aid them in finding an authentic and meaningful way of living.  Dr. Godenick emphasizes individual empowerment, individual choices, and individual preferences within the therapy process.  She prefers to collaborate with clients and is passionate about the client-centered approach.  She identifies with the eclectic orientation.  This is a therapeutic philosophy in which the clinician uses elements from a variety of therapy styles.  For example, the clinician may collaborate with a client to use elements from Cognitive Behavioral Therapy (CBT) by discussing benefits of tracking unhelpful automatic thoughts.  A client may also benefit from understanding the concept of distress tolerance, an element of the Dialectical Behavioral (DBT) approach.  Further, the therapist may aid the client in working toward acceptance of the anxiety process rather than ongoing avoidance of stressful circumstances, which is an element of Acceptance and Commitment Therapy (ACT).  The eclectic approach allows Dr. Godenick to individualize treatment for the client.
Dr. Godenick is invested in honoring her clients' individual differences and believes that we are all human beings and deserve to be treated with respect and dignity.  Over her years of practice, she has prided herself in treating a wide variety of people from different cultures, lifestyles and belief systems with an open-minded and caring approach.
SPECIALIZATION & THERAPY PROCESS
---
In therapy, Dr. Godenick sees adults on an individual basis with a wide variety of mental health concerns.  She treats Mood Disorders, Adjustment Disorders, Substance Misuse Disorders, Psychotic Spectrum Disorders, as well as other concerns.  Her research background, as well as her most current continuing education focus is in the treatment of Anxiety Disorders.  She uses specific, solutions-focused treatments for a variety of anxiety symptoms.  A typical course of treatment would start with an in-depth intake interview, where Dr. Godenick listens and collaborates with the client to form an initial treatment plan.  Dr. Godenick also finds value in teaching clients about the anxiety process from a biopsychological perspective.  She likes to use creative ways to help the client understand anxiety in a way that meets them at their level.  Clients learn anxiety is a basic, biological process involving the brain and body.  Many clients have found patient education about anxiety is helpful in reducing symptoms.  It allows the client to realize that anxiety, although it feels bad, is a predictable, well researched, understood phenomenon.  You may have heard unhelpful comments like, "It's all in your head" or "Just get over it."  Anxiety Disorders are real mental health problems that can benefit from treatment.  In her practice, Dr. Godenick prefers to collaborate with you and help you develop customized techniques to manage debilitating anxiety and feel empowered to live life to the fullest.
Dr. Godenick has completed advanced certification in family trauma treatment.
What is family trauma?
Trauma is an experience or sequence of experiences that activate fear, dread, worry and an associated sympathetic autonomic nervous system response (heart rate increase, gastrointestinal dysregulation, sweating, dry mouth, difficulty verbalizing, trembling).  When one family member is traumatized, other family members perceive and react.  This is usually an unconscious reaction which exacerbates trauma versus healing trauma.  Helping families develop a healthy trauma response (even when only one family member has been traumatized) is critical to recovery.
Trauma Facts
Every individual has a unique response to trauma
Some family members have a higher tolerance for trauma
Children have less predictable trauma responses
Dr. Godenick also conducts full psychological assessment batteries for children and adults.  She sees children as young as six years old, and adults through the lifespan.  Her writing style is always client-focused, and it is her goal to produce a report that is useful and understandable to the client.  She accepts a wide variety of referral questions including, IQ, Adaptive Functioning, Achievement, ADHD, Autism Spectrum Disorder or other psychological and behavioral issues.  Typically, a list of personalized treatment recommendations and follow-up ideas are provided to the client so they can make as much use of the testing report and process to meet their individual needs.
EDUCATION & TRAINING
---
Originally from the east coast, Dr. Godenick received her BA in Psychology in 1999 from Washington Adventist University in Takoma Park, Maryland.  In 2006, she earned her MA and in 2009, her Ph.D. in Clinical Psychology from Loma Linda University in Loma Linda, California.  Dr. Godenick's research background at Loma Linda investigated relationships between personality traits and the physiological changes in anxious mood states.  She has presented her research at international conventions as part of the Society for Psychophysiological Research in Vancouver, British Columbia and Berlin, Germany.
While working on her doctoral research, Dr. Godenick completed clinical training in both forensic and non-forensic settings.  At Patton State Hospital she wrote psychological assessments and conducted group therapy with adults committed to the California Department of Mental Health in culturally diverse maximum security environment.  She also worked at an outpatient clinic conducting psychological assessment and therapy with individuals convicted of sex offenses.
Dr. Godenick's interest in psychological assessment of children developed from her training at Loma Linda University Children's Hospital.  There, she conducted psychological assessments of school-aged children and adolescents with academic or behavioral problems, neurological disabilities, or both.  These evaluations integrated neuropsychological, psychosocial, achievement and cognitive measures.  Her reports focused on the development of individualized treatment plans for each child and family.
Her pre-doctoral internship was spent in Milwaukee, Wisconsin working for the Wisconsin Department of Corrections in community clinics, medium, and maximum security prisons.  She earned her post-doctoral hours at Taycheedah Correctional Institution in Fond du Lac, Wisconsin.  There her primary position was on the Monarch Special Management Unit.  She provided services that addressed the needs of individuals with severe mental illness, special medical needs, and developmental disabilities.
Dr. Godenick moved to the Cincinnati area in 2012.  Before entering private practice, she most recently served as a supervisor at a community mental health agency in Lawrenceburg, IN.  At that setting, she provided therapy, psychological assessments, court testimony, and consultation to community agencies.  She supervised pre-doctoral interns from Miami University in Oxford, OH.  She also helped to supervise Masters level students from Northern Kentucky University.
Book an appointment with Dr. Godenick today!